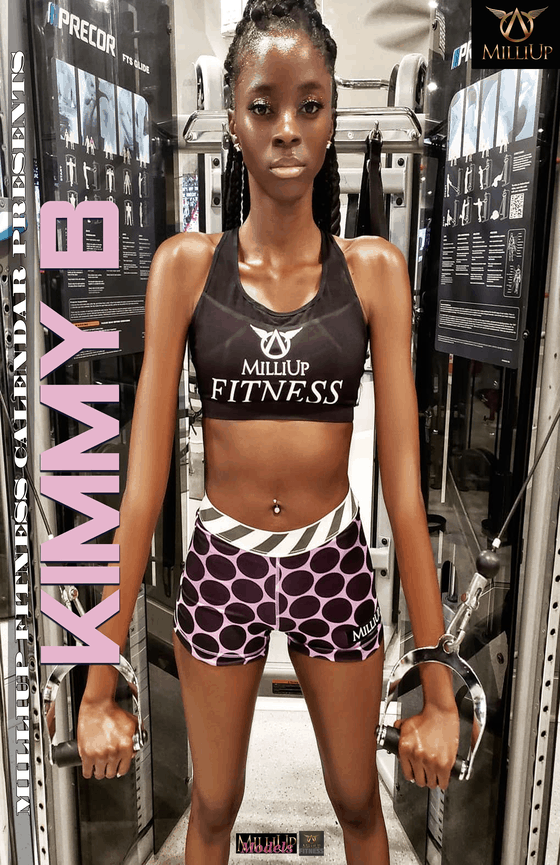 MilliUp Model Kimmy B has teamed up with MilliUp Fitness Trainer Antwan "Puncho" Hawkins for a body sculpting project that no one will ever forget! The specifics: THERE IS NO NUDITY IN THIS CALENDAR, STILL, THIS CALENDAR IS FOR A MATURE AUDIENCE. This calendar comes in 3 different formats all in full color with a glossy finish on the front cover and a matte finish on the inside pages. 1) Poster (Centerfold Image not included)
2) 8.5″x11″ (Binded across 8.5″, includes centerfold image)
3) 11″x17″ (Binded across 11″, includes centerfold image) This is a multi-year calendar which means it includes only months and 35 blocks for days (Sunday-Saturday) per month, so feel free to use it this year or 20 years from now. This calendar has no marked holidays but each and every occasion of your life can be written out depending on the preference of the purchaser. For example, everyone doesn't celebrate Christmas nor will they purchase this calendar in the beginningof the calendar year, this calendar is not biased in those regards.
We are sure that you or the person you purchase this calendar for will love every page and look forward to gaining your appreciation and loyalty to the brand through this product.